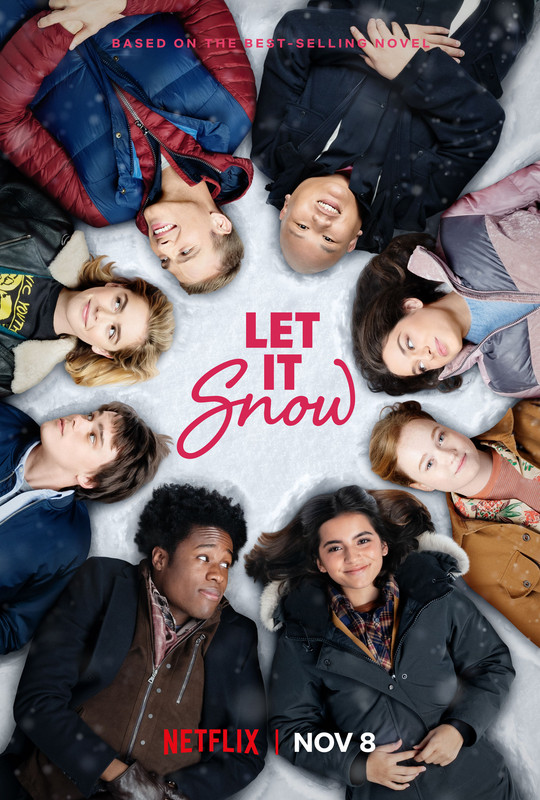 It's Christmas Eve in small-town middle America and there's a snowstorm. A group of teenagers are each going through their own relationship troubles, before coming together at a Christmas party at the local Waffle Town.
Let it Snow is a simple film. On the surface, it resembles nothing more than Garry Marshall's saccharine multi-stranded holiday movies, Valentine's Day, New Year's Eve and Mother's Day, recast almost entirely with teens. Happily, it's a bit better than that outward similarity might suggest.
The various storylines break little new ground. There's Tobin (Mitchell Hope) the nice guy who has realised he's in love with Angie (Kiernan Shipka), the girl who has been his best friend since they were little kids, but she might be into JP (Matthew Noszka). Julie (Isabela Merced) has got into Columbia, but can't decide whether to go because her mother (Andrea de Oliveira) is very sick, she winds up meeting and hanging out with Stuart (Shamiek Moore), a pop star passing through town. Dorrie (Liv Hewson) is working at the Waffle Town when the girl she's been trying to message (Anna Akana as Tegan) comes in, but brushes Dorrie off in front of her friends. Dorrie's old friend Addie (Odeya Rush) is paranoid that her boyfriend is cheating on her, which causes an argument between her and Dorrie, and leads Addie to find help in the form of an odd local character (Joan Cusack). Keon (Jacob Batalon) is just hoping that a prominent DJ will drop in on his set at the party. These stories all go much the way you'd expect. That said, there are some welcome elements here.
The young cast is full of talented and charismatic players. Isabela Merced (previously known as Isabela Moner, she changed her name a few months ago) has had a great year already, bringing unexpected heart to Instant Family and turning in a wonderfully high energy performance as Dora the Explorer, in what is still one of the most pleasant surprises of the year in movies. She has less to work with as Julie, but she makes the cliché dilemma her characters is in play and her connection with Shamiek Moore works well, especially in the scene when Stuart offers her help, and it doesn't go the way he expects. In that moment, Merced does manage to square the circle of showing that Julie likes this guy, in the same moment that she's a little insulted by his offer.
The other main story is even more by the numbers. There are some charming moments between Tobin and The Duke (Angie's nickname, because she was always 'one of the guys' as a kid), few more so than when they, along with JP, are in a church, Tobin starts playing the organ, and he and Angie sing The Whole of the Moon together. Kiernan Shipka and Matthew Noszka are both obviously having fun, and they have a dynamic you can easily buy as longtime friends. Yet, despite this, it's hard to deny what Tobin appears to see: The Duke has much more chemistry with JP. It's a nice touch that the film never undermines JP's status as a very decent dude, but this also makes the inevitable ending of their storyline even harder to swallow.
Perhaps the most effective strand belongs to Dorrie. It's refreshing to see an LGBT love story represented in a mainstream Christmas movie and simply treated as part of the fabric of the characters lives, rather than something novel or, worse, shameful. Liv Hewson's earnest but open performance is winning in its awkwardness, especially when Dorrie presents Tegan with a 'Quaffle waffle'. They're soon going to be seen in Bombshell and on this basis I'm looking forward to seeing them in what's sure to be a very different register.
Other characters are inevitably a bit short-changed, given that the film has to pack everything into just 93 minutes including the credits. While it's nice to see one of the strands revolving more around friendship than romance, Odeya Rush's storyline feels marooned in the more interesting and novel story between Dorrie and Tegan. Jacob Batalon doesn't stray far from the persona he's established in his two Spider-Man films, but he's still got nice comic timing.
Beyond the romance between Dorrie and Tegan, Let it Snow is refreshing in its diversity. The group of friends includes White, Black and Latinx characters as well as a non-binary actor in Hewson. The film doesn't force this as a message, instead it simply looks to reflect what the modern world looks like. Unfortunately not much else about it is particularly novel. This is particularly disappointing given that British comedian Laura Solon is on the writing team. Solon's Radio 4 character based sketch show, Talking and Not Talking was at times gloriously weird, and I wish more of that sheer strangeness had been translated here. Only Joan Cusack's recurring cameo as a snowplough driver who dresses in tinfoil and refuses to say why captures any of Solon's more off the wall tendencies. It gets a couple of laughs, but it's these unexpected moments the picture could use more of.
There are charming moments here, and the inclusiveness is welcome and commendable, but the talented cast are underutilised and that means there is a pervasive feeling of unfulfilled promise to Let it Snow, passingly fun as it is.